Free Guide Everything You Ever Wanted to Know about Fiberglass Pools, Vinyl Liner Pools, Concrete Pools Click here Free Download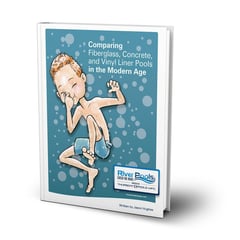 Benefits to owning a River Fiberglass pool are: practically bulletproof, stronger then concrete, algae doesn't bond to a fiberglass pool, Fiberglass Pools use very little chlorine, Fiberglass Pools are pet proof, kids can't puncture a Fiberglass Pool, Fiberglass Pools are Gel Coated with the longest lasting surface available. There are no ongoing repair costs, no resurfacing required and the monthly maintenance costs are between $20 to $30 dollars per month.
We also offer a huge array of options for the fiberglass pools including handcrafted tiles, mosaics, and inlaid tiles. River Pools Rhino Loc Certified Installation Process Guarantees we are with you every step of the way in the installation process.
Another facet of our business is that we also sell and install steel/vinyl inground pools, all types of sizes and shapes to fit your backyard needs. Hudson Valley Fiberglass Pools, Long Island Fiberglass Pools,
We deal factory direct with River Fiberglass Pools and we also deal factory direct with our steel pools with the biggest pool manufacturer in the industry. Feel free to contact us and speak with a representative so we can help you turn your backyard into the backyard paradise you always dreamed of Call Toll Free Today 888 89 POOLS 888 897 6657
See River Pools Website Below Everything You Ever wanted To Know About In Ground Pools, Fiberglass Pools, Vinyl Liner Pools ETC
Raleigh Inground Fiberglass Pools and Swim Spas
Raleigh Fiberglass Pools By Sun Fiberglass Pools and Spas
Finance Your Sun Fiberglass Inground Pool

Sun Fiberglass Online Pool Brochure click the link
6/11/2015
Need a Fiberglass Inground Pool at a Great Deal?
Raleigh N.C. BuyBest Pool Supply and Sun Fiberglass Pool Manufacturing Team Up Sun Fiberglass Pools is your backyard recreation provider of the Best Pool Value Under the Sun for swimming pools, spas, leisure, low cost, inground pools! call Today 919 621 7471
"With a wide variety of different models ranging from spa's to family-sized pools, Sun Fiberglass has something for every application and budget."
• All Of Our Fiberglass Products Are Made in the USA.
• Guaranteed craftsmanship in every pool we build.
• Our lifetime Warranty is your assurance.

Why A Sun Fiberglass Pool?
For years, Sun Fiberglass Products has been a leader in the manufacturing of quality one-piece fiberglass swimming pools. Utilizing the latest technology, all Sun Fiberglass pools are handcrafted and finished with a modified epoxy skin-coat resin, along with structural ribs and a reinforced coping."
Fast Installation. The largest part of any inground swimming pool project is actually building the swimming pool shell. The Sun Fiberglass Pools are built in the factory and arrive on site with a finished shell ready to be installed saving weeks of construction time.
Easy Operation. The Sun Fiberglass Pools feature a smooth comfortable interior surface that won't snag your swimsuit or skin and require minimum chemical treatment. The pools surface won't need to be replaced like a vinyl liner pool or acid washed or re-coated like a concrete pool. Lowest operating costs of any inground pool !!!
Unique Features. The Sun Fiberglass Pools have built in shallow end entry steps, underwater swim-out seating areas. The floor and steps of the pool feature a non-skid textured bottom. The pools have optional inlayed mosaic tile designs, waterline tile trim , built in waterfalls and color underwater lighting.
No Clear Coat. The Sun Fiberglass Pools have 3 solid color choices available, these solid colors are high grade marine finishes with a proven track record. Some fiberglass companies offer various color designs that all start with a clear coat base, the clear base will breakdown over time and cause the exposed surface to yellow or fog. The marine industry experimented with the clear coat for the bass boats in the late 80's and found the clear top coat to be problematic for minor repairs and durability. The companies that offer these clear coat surfaces require the top rim of the pool to be poured over with concrete or what's called cantilevering the concrete over the top rim of the pool adding thousands of dollars in installation costs.
No Resin Fillers. The Sun Fiberglass Pools are built using high grade marine FRP resin products. These products make the Sun Fiberglass Pool the most consistent product available today the exterior shell colors are uniform and not dyed, tinted or vary from pool to pool.
Hand Cut and Laid Materials. The Sun Fiberglass Products feature a critical point lamination process that utilizes hand cut sheet fabric for each swimming pool model. The industry has no real standard for the way a fiberglass pool is physically fabricated. We at Sun Fiberglass use a similar process to that of a high end yacht placing the structural material on across the pool shell from side to side instead of from one end to other, most companies lay the bulk glass on the pool from end to end using longer runs of material, or just use what's called gun roving or chop glass that's sprayed on the mold and controlled by the operator of the spray equipment. The Sun Fiberglass pool has craftsmanship you can visualize compared to the other brands that may be available the outside lamination is smooth and clean and not full of splinters the best in the business.
No Spreader Beams on shell. Most fiberglass pools are shipped with a belly band or spreader bar across the pool to hold it's shape during the handling and installation. The critical point lamination process on the Sun Fiberglass Pools enables the pool to support itself and a spreader bar or belly band is not required to handle and place a Sun Pool.
Warranty. The Sun Fiberglass Pool features a: Lifetime Structural Pool Shell Warranty for each hand crafted pool shell. The interior surface has a 3 year warranty and the warranty is transferable within the first 36 months. The warranty is limited to the terms and conditions outlined in the Sun Fiberglass Products Shell Warranty Certificate delivered with each pool; this warranty does require registration with the corporate office.
Real Liner Inground Pools $7995 to $9995
BuyBest Pool Supply offers all Aluminum Pools and Pools with Decks That can be installed Inground, Semi Inground on a level land surface or built into a hill or slope. Below is the information on the Aquasport Pools, we can also install the Torino or Sandora Aluminum Pools semi inground (call for details) 919 621 7471
Aquasport Pools Inground or Semi Inground 15 x 30 Installed Semi Inground $7995, Installed Fully Inground $9495
AQUA SPORT HYBRID
The Hybrid pool is simply a semi in-ground or fully In ground installed pool. Extruded aluminum has unparalled strength and is the same material used in jet planes an the space shuttle. It is perfect for yards which slope because the pool can be installed partially in the ground and partially out. It is corrosion resistant and rigid making it the ideal material for semi in-ground installation. The Aqua Sport Hybrid Pool allows you to achieve the in-ground style at an aboveground price.
The Aquasport is specifically designed to be buried. The interlocking walls are that strong! Super Guarantee, Rated #1 Pool in the USA… All American Made
AQUA SPORT HYBRID POOL SIZES
OVALS
ROUNDS

10′ x 15′ x 52″

12′ x 52″

10′ x 18′ x 52″

15′ x 52″

10′ x 22′ x 52″

18′ x 52″

12′ x 20′ x 52″

21′ x 52″

12′ x 24′ x 52″

15′ x 24′ x 52″

15′ x 27′ x 52″

15′ x 30′ x 52″

17′ x 32′ x 52″
24 x 52 Round Above Ground Pool, Semi Inground Pool & Fully Buried Pool Packages Lowest Prices in Raleigh Scroll Down for Pictures & Deals. Super Special 24 Round Salt Pool 4 Available

Sandora and Torino above Ground or semi inground pools
2015 Buster Crabbe Pools Sandora 52
Aluminum Wall Pools

Aluminum Pool Info

Top Rails
Extra Wide 6 " Top Rail Extruded Aluminum 6063T6 High Gloss White Electrostatically dry power coated.

Uprights
Extra Wide Extruded Aluminum Upright with Coordinated Vertical Decorator Strips, Finished Gloss White.

Cap Sets
Polymer Resin, with Stainless Steel Screws for Fastening.

Wall
All Aluminum painted Copyrighted Wall .027″ Thick 5042 H34 Marine Grade Alloy supplied on all sizes. Deep Ribbed Corrugated Wall for increased strenght and flexibility during and after installation.

Liner Receptor Track
Aluminum Extruded, Curved Bead Receptor Track supplied with all Beaded Liners (Hung Liners).

Aluminum Pool Models

Torino 52″
Sandora 52″
These Models are available in the following sizes:
Round
12′
15′
18′
21′
24′
27′
30′
Oval w/Buttress
12′ x 24′
15′ x 24′
15′ x 30′
18′ x 33′
18′ x 39′
SALT SANITATION COMPATIBLE STEEL WALL SALT OR CHLORINE POOLS,
YOU WILL BE AMAZED AT OUR SPECIAL PRICES,
Round Pools, Oval Pools, Buster Crabbe Pools since 1955 
Installed, Pick Up or Shipped to You For Self Install It's Your Choice
24 Round All Resin Above Ground Pool Grande Milano or Grande Sapphire Complete Package WITH SALT GENERATOR Installed Special to low to advertise, ovals available call for pricing you will be amazed 919 621 7471


-Massive 10″ Top Rails and 10″ Stanchions with stylistic enhancements.
Injection molded with virgin polymer resin for superior strength and durability.
-Extra Wide Ribbed Upright, injection molded with virgin polymer resin for superior strength and color-coordinated with toprail and wall.
-Wall extra protected with Hot Dipped Galvanized Copper Bearing Steel G90. Diamond coated protection applied to wall on face side. Epoxy coated on inside for additional rust resistance. Deep ribbed corrugated wall for increased strength.

Dare to Compare Pools in this category sell for more, but they have only 6″ Top Rails and Stanchions
Prices to Low to Advertise as per the manufacturer, Call or Text Me Today You Will Be Amazed 
Rich 919 621 7471   
Super Deals on All Above Ground Pools, BuyBest Pool Supply Raleigh
---

Extruded Aluminum Paneled Wall Pools

Extruded Aluminum Pool Info

Extruded Aluminum Corners
Extruded Aluminum radius corners integrate all corners of pool into a complete unitized construction.

Extruded Aluminum Bottom
Rails Complete bottom track and wall receiver, Extruded Aluminum channel, with Extruded Aluminum splice plates.

Extruded Aluminum Wall Construction
Self interlocking wall panels for unparalled structure strength. Entire inside pool wall completely smooth around entire perimeter. Prepunched 8″ wide Extruded Aluminum panels for thru wall skimmer. Extruded Aluminum return flow panel included.

Liner Receptor Track
Aluminum Extruded, Curved Bead Receptor Track supplied with all Beaded Liners (Hung Liners).

Decks are not available on Aquasport Extruded Aluminum Pools

---

Admiral's Walk Pool Includes the following:

Regency End Deck
Massive 66″ end deck. Extruded aluminum with factory welded and carpeted.Regency Promenade Walk-Deck
Spacious walk-around carpeted deck, around entire pool. Factory welded and carpeted with 36″ high

Regency Resin FencesRegency Resin Fencing
Pre-assembled fence units – with recessed fixed assembly to pool.
Resin picket fencing, with 88″ high painted aluminum posts.
Swing key-lock gate supplied.

Regency Entrance Ladder
Large Swing-Up Entrance Ladder, that makes the pool area inaccessible when not in use. Five (5) deep ripped, Polymer Resin threads plus Two (2) deep ripped extruded and painted white handrails.

Extruded Aluminum Pool Models

Aquasport 52″
Admiral's Walk 52″
Available in the following sizes:
Available in the following sizes & Deck Options:
Rounds
12′
15′
18′
21′
24'Ovals12′ x 18′
12′ x 21′
12′ x 24′
15′ x 24′
15′ x 27′
12′ x 20′
12′ x 24′
16′ x 24′
16′ x 24′ w/Double Deck
16′ x 32′
16′ x 32′ w/Double DeckAll pools include an 18″ carpeted walkaround deck/resin fencing in pool and staircase ladders and self closing gate/pool entry enclosure system.
Decks & Fencing

Deck & Fencing Info

Deck Structure
Deck designed using a static load of 65lbs per square foot.
Extruded aluminum with factory welded and carpeted(grey or blue).

Fencing
Deluxe Polymer Resin Construction. Maximum pass through does not exceed four inches (4″). At least 65% open area to allow visibility. Overall fence height; 36″ inc: Fence top rail to top of pool rail.

Gate
Self closing aluminum and resin gate. Supplied with key lock.

Trim
All aluminum parts electrostatically polyester dry powder coated gloss white.

Hardware
All Stainless Steel. Deck Structure: Deck designed using a static load of 65lbs per square foot.



Regency Royale

Creates a new unsurpassed dimension in outdoor recreational living.

Available on 18′, 24′ & 30′ Round & 15′ x 24′, 15′ x 30′ & 18′ x 33′ Oval above ground pools, excluding Grande & Aquasport(model) pools.

Includes your choice of 2 or 3 piece fan deck on round pools and 6'x9′, 6'x15′ or 6'x18′ on oval pools, 18″ Walkaround Deck and Resin Fencing around the entire pool!

Also includes in pool and staircase ladders and self closing gate/pool entry enclosure system.

Decks & Fencing

Round

Fan Decks
2-piece (52 Sq Ft)
3-piece (78 Sq Ft)
4-piece (104 Sq Ft)

Oval

Rectangular Side Deck
6′ x 6′
6′ x 9′
6′ x 12′
6′ x 15′

18″ Walkaround

Fencing Options
Fencing around Pool Only
Fencing around Deck Only
Fencing around entire Pool w/Deck
Above Ground Pool Deals Raleigh & The Triangle Save $$$$ Guaranteed
SALT SANITATION COMPATIBLE POOLS SAVE THOUSANDS YOU WILL BE AMAZED AT OUR SPECIAL PRICES
24 Round All Resin Above Ground Pool Grande Sapphire, Grande Milano 
Self Install, Pick Up or Shipped to Your Door can save you $$$ on 24 Round grande Pools
-Massive 10″ Top Rails and 10″ Stanchions with stylistic enhancements.
Injection molded with virgin polymer resin for superior strength and durability.
-Extra Wide Ribbed Upright, injection molded with virgin polymer resin for superior strength and color-coordinated with toprail and wall.
-Wall extra protected with Hot Dipped Galvanized Copper Bearing Steel G90. Diamond coated protection applied to wall on face side. Epoxy coated on inside for additional rust resistance. Deep ribbed corrugated wall for increased strength.
Dare to Compare Most Pools in this category sell for more, even if the price is the same they have only 6″ Top Rails and Stanchions call or text Rich
919 621 7471 Rich  for managers Specials 
---